You haven't still purchased training supplies for your Giant
For our loyal customers and those who joined us lately we created this

FREE Newsletter

, which you can subscribe for right here on this page! This is an alternative pages, our archive of all sent Newsletters for you not to miss something interesting, topical, life themes and discussions. Join us, learn everything you're interested in, get to know more about your dog's life and features and enjoy reading this intertaining, yet informative source!!
If you read this newsletter, you are probably the owner of Great Dane dog breed. When I think of a gentle giant among dogs, the first breed that comes to my mind is a powerful and amazing Great Dane. This larger dog is gentle, sweet pet, that is in the Guinness Book of World Records as "world's tallest dog". Our fascination with this breed is endless. His size, personality, and appearance are all magnetic. Where did this majestic breed come from? Spend a few minutes to read our newsletter to find out interesting information about your Gentle Giant.
"He is your friend, your partner, your defender, your dog. You are his life, his love, his leader. He will be yours, faithful and true, to the last beat of his heart. You owe it to him to be worthy of such devotion." - Unknown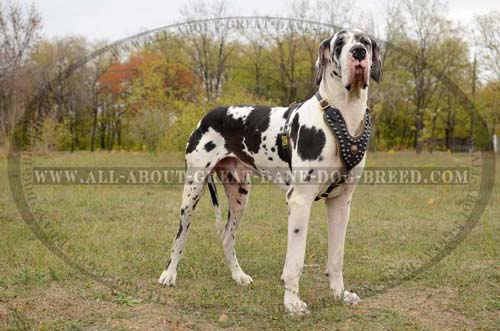 Provide your Great Dane with full comfort with a help of this Nappa padded Leather dog collar!
Except for lacking the undershot jaw, the Great Dane represents the closest modern example of the Alaunt. In Italy, the breed is called Alano, the Italian word for mastiff. Although not the heaviest, they are the tallest of the mastiffs, and their racier build may indicate a cross to hounds in past centuries. Merle hounds or shepherd dogs could have introduced the merle (harlequin) gene.
Remote Control Ultrasound Device

Modern Multipurpose Training Device

Even if your dog is usually obedient, sometimes he can do strange things. For example, he can smell some scents or hear strange sounds. And as your Great Dane is a big dog breed, he can easily pull you in any direction. You are to constantly strain him at the leash. But he may not react. This is considered to be a problem of many big dog breeds' owners. For this purpose our New Easy-to-Use Helpful Trainer was produced. This small device will help you to teach your dog not to pull you while walking or training.
---