Here you can read all important information about Great Dane dog
For our loyal customers and those who joined us lately we created this

FREE Newsletter

, which you can subscribe for right here on this page! This is an alternative pages, our archive of all sent Newsletters for you not to miss something interesting, topical, life themes and discussions. Join us, learn everything you're interested in, get to know more about your dog's life and features and enjoy reading this intertaining, yet informative source!!
It is spring now and you probably go for a walk with your Gentle Giant very often? How many times do you hear such words: "Wow!..What a beautiful and large dog!"
I'm sure that people around admire your beloved pet and you are the happiest man to have such dog breed.
Maybe you want to know more about your Great Dane's character? Maybe you want to make his life more comfortable, healthy and enjoyable? Maybe you want to choose proper dog training equipment for your beloved pet? No problem!
Thank you for subscribing to our newsletters. I'll be happy to offer you
all important information about your Gentle Giant!
Just spend a few minutes to read the article below. I hope you will find some useful information!
Have a nice day!I wish you to enjoy every minute with your four-feet friend!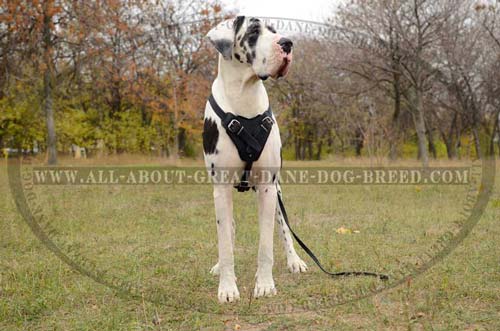 Provide your Great Dane with comfy and safe walking!
Great Dane Dog Training Equipment
You can train and control your dog using a variety of methods and techniques. What your want to train your dog to do or not to do can often determine what equipment you may need. Harnesses, halters, and collars are all used to control your dog during training or while you are out in public. It is up to you to decide which piece of equipment will work best for you and your pooch. To help you decide, consider the following brief explanations.
Remote Control Ultrasound Device

Modern Multipurpose Training Device

Even if your dog is usually obedient, sometimes he can do strange things. For example, he can smell some scents or hear strange sounds. And as your Great Dane is a big dog breed, he can easily pull you in any direction. This is considered to be a problem of many big dog breeds' owners. For this purpose our New Easy-to-Use Helpful Trainer was produced. This small device will help you to teach your dog not to pull you while walking or training.
---